Reliable & secure web hosting you can trust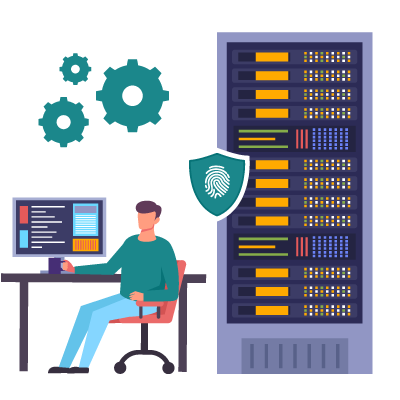 Security is something we take very seriously at Alberon and our hosting provision includes a multitude of security features to protect your website.
SSL

. We protect your user's data from malicious attacks by providing SSL encryption for every site as standard.

Regular monitoring. Our rigorous monitoring checks our servers 24/7 for unusual activity. We have firewalls in place to block any malicious attacks and we scan all uploads to your website to prevent dangerous files from being added. We monitor industry-wide vulnerability and black-list databases, so we know immediately of any threat that could affect your system.

Password protection.

We enforce robust security measures, such as strong passwords, and use industry best practices to reduce the chance of a successful attack.
A website that loads quickly is vital to provide customers with a good user experience and will help you to win business.
We limit the number of websites we host per server to make sure that your website continues to run as quickly and efficiently as possible and always delivers the best possible experience to your visitor.
We will also regularly check your hosting provision to ensure it meets your current requirements and we will advise and recommend any changes if necessary.
We take daily backups of your system and keep them for up to 6 months.
If your site is compromised, having regular backups of your system means we can get your system back up as soon as possible. Our hosting packages include any work necessary to get your system back fully operational.
As part of our quality control process, we will build three versions of your website – a development site, staging site and the live website.
Any changes we make to the website will be made on the development site first, allowing us to complete any updates in a secure test environment. Changes requiring your approval will be pushed to the staging site for you to check before being applied to the live website.
To help protect your investment, and make sure it continues to meet the needs of your business, we provide regular maintenance to keep your website secure, stable and up-to-date.
The frameworks used to build your website and third-party plugins your system needs will receive regular updates providing new features, improvements and security patches. As part of our maintenance package, we apply these updates in a safe development environment and test them thoroughly before pushing them live.
We do the same with our technologies. Servers have a lifespan and we monitor their effectiveness. We will proactively migrate your applications to new, updated hardware when necessary.
Get in touch
We provide reliable, secure web hosting you can trust to keep your systems up and running to their full potential. Find out how we can help your organisation.
Contact us
Case studies
Education
Database development for streamlined data management
Read case study
Articles
Software & web support services
Experienced in supporting a range of applications, our skilled team will keep your software or web application operating at its best and efficiently resolve any issues should they occur.
Find out more