An organisation that is using software that is no longer receiving updates is at risk. Not only could the system break and data be lost, but it might be at risk from malicious activity too. However, businesses do have options to ensure the security of data and even improve their operational efficiency at the same time.
In this article, we outline why we advise against using obsolete software and if you have dated systems, what your options are.
What is unsupported software?
Unsupported software refers to systems that are no longer updated, patched or generally looked after by the developer of the software.
For example, if you are using an iPhone 6 or older model, the software that is used on the phone is no longer updated by Apple, and the user may experience issues.
Why is outdated software a threat?
Using old software, which no longer receives the love and attention it needs from a development team, can cause serious problems which users should be aware of.
If you've had issues using software before, like most people, you may have turned to Google or other search engines to find answers. With discontinued software, it's unlikely that you will find a solution as people are less concerned about old versions of a system. Forums and troubleshooting will likely have moved onto newer versions.
The most concerning aspect of old software is that it will no longer be receiving security patches. Malicious users will try to find weaknesses in software code to steal data or inflict other malicious problems. Software updates look to solve these before they can be exploited. Software that is no longer secure will be exploited eventually, risking the security of data which could lead to fines or even companies being held for ransom.
The digital world is fast-paced and it is easy to be left behind. It is also often interconnected and software needs to be able to talk to other systems in its environment. To run the average piece of software it needs to be compliant with many other applications such as your operating system (e.g. Windows 11) or web browser (e.g. Google Chrome). These are constantly being updated and software that falls behind may become buggy or even unusable if it hasn't been updated to work and 'talk' with new versions.
Software may become unusable as it starts to slow down. It may start impacting your business and workers as they can no longer complete tasks as quickly or easily. As new, more efficient systems become available, your unsupported software may be holding your business back. It is also important to acknowledge that software that is not receiving updates will never have the potential to get better and grow with your business. This may have further implications if it can't comply with new regulations – such as GDPR. It will become a bottleneck that can hold an organisation back.
What to do about unsupported software
Although unlikely, you may have good reason for using dated software. Of course, there is a trade-off – any money invested to find a replacement must be worth the plunge. Equally, if there is an issue, the longer you leave it, the more complicated and expensive it may be to fix.
So, we advise seeking assistance as it can be detrimental to run unsupported software. Check for updates and the latest version number. If the software has been discontinued, it is likely you can find out online. So if you do decide to invest in new software, what are your options?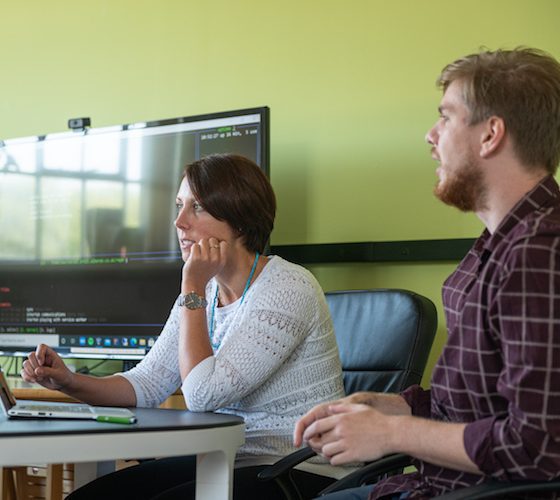 Off-the-shelf software – You could take a one fits all approach and purchase an existing system. There are many software  options available to aid different tasks. For example, if your business CRM is no longer supported there are many off-the-shelf options that may meet the needs of your business. Do some research to find out whether there are any viable options. Businesses offer trials of software and have big support teams that you can question about the product. If you are really unsure, find a consultant or business that can help you find the right solution.
Bespoke software development – If you still cannot find a solution that works for you – enquire about getting bespoke software developed for your business. Initial costs may be more expensive, but better software that suits your exact business needs may be more efficient and cost-effective in the long-term. You will also be able to ask about future plans, regular updates and decide whether your software will be secure for the future.
To find out more about your options and the pros and cons, read our article on off-the-shelf vs bespoke software development.
Why bespoke companies prolong software
Software that is tailored to your business will be built with flexibility and scalability in mind. It is built to work exactly as your business requires, with no wastage, and provides the foundations on which your company can grow as new requirements become apparent.
Having designed and built the system, you will have a focussed team that knows your organisation and the system well, and is there to protect it. If the software experiences any performance or security issues, you can ask the team to help. They can develop and implement updates and test it. Building long term relationships with a software development team will help as they get to know your business and its objectives, they can support and make recommendations accordingly.
Software development at Alberon – How can we help?
Alberon has been developing, hosting and supporting bespoke software systems for over 15 years. Our development team design secure, tailored to the individual needs of a business. Get in touch to find out more.